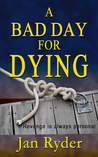 A Bad Day For Dying by Jan Ryder
My rating: 5 of 5 stars
This book was engaging and thrilling from beginning to end. The story was creative with depth to it. Vicki is a businesswoman who is forced to confront her past and the painful memories she thought she left behind. She must confront this in order to save hostages. Once she arrives to hold up her end of the agreement, the story takes a turn and it is non-stop adventure for the rest of the book. As the story unfolds you will experience horror, love, sadness, revelations and regret. This book takes your emotions for a spin along with Vicki.
The characters well written and developed. The story is creatively developed and well delivered. The characters are likable and realistic and the emotions experienced are real and defining.
Great book, I look forward to reading more from this author.
Purchase 'A Bad Day for Dying' HERE
Catch up with Jan on her WEBSITE
And on GOODREADS