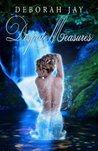 Desprite Measures by Deborah Jay
My rating: 4 of 5 stars
This book was refreshing because I was able to read about new creatures that I haven't often read about. Sprites. Cassie is a water sprite and I really enjoyed her character.
The scenes of the book were well written and described in enough detail to give me a clear picture. The story flowed well and there was plenty of action to keep me turning the page to see what happened next. The characters were unique and well designed.
I enjoyed learning about the sprites/elementals and how they adapt and survive in the world. I really enjoyed Cassie's pet and the fact that she made it a priority to not only save the animals but to preserve the natural environment.
There were two very minor things that seemed a bit out of place. The first one being the fact that Cassie had such a strong desire to save the evil magician instead of killing him. If I was in her place, I would definitely want to know he was in a place that he could no longer hurt me. I am wondering though if this was truly Cassie or if she was under some sort of spell from the magician. It just seems to me that a sprite that doesn't have human emotions sure shouldn't care about an evil man who is trying to kill not just her but other elementals. This is why I am thinking she was under a spell, and maybe I just didn't catch that part.
The second thing was the obsession for Gloria. It was okay most of the time, I can understand the overwhelming desire to want what you can't have. Although, sometimes it just seemed slightly out of place or out of character for Cassie. These were both very minor things and more personal opinion or preference.
The story is written well and the author had some very unique and creative concepts that I really enjoyed. I will definitely read more from this author and can't wait to see Cassie in her next adventures.
Purchase 'Desprite Measures' HERE
Connect with Jay at her WEBSITE
And on TWITTER
And on GOODREADS